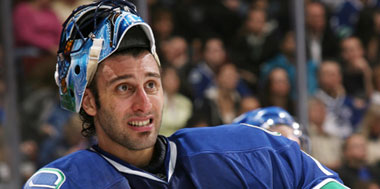 Man, where to begin with tonight's game? It was bowling shoe ugly…
As I wrote in my recap last night, the Canucks needed to play a full 60 minutes and get away from the sloppy play that allowed an injury riddled and exhausted Oilers team to make it a game after going down 4-0 in the first period.
Taking 3 penalties in a row is a recipe for disaster against a team like the Sharks, particularly when your PK has been having problems like it has for the Canucks. Factor in a team that played the night before and a powerplay that was firing blanks by going 0 for 4 and the Canucks could ill afford to suffer poor play.
Click to continue reading "Postscript: Sharks/Canucks"