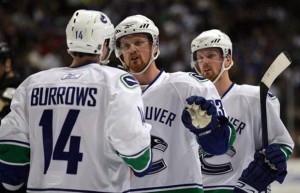 The Sedins have been enjoying immense success as of late. There's been much talk of Henrik being right at the very top of the NHL's scoring elite, being outpaced only by Joe Thornton, while brother Daniel has been making a lot of noise for himself: he recently picked up his third career hat trick, was named 2nd star of the week by the NHL and player of the day December 11th.
Which isn't to say that linemate Alex Burrows hasn't been doing well for himself, either. Although cooling down a bit when Daniel was out with an injury, Burrows has 10 points (6g, 4a) in his last 10 games and has been an absolute beast on the penalty kill.
With all that said, there's been little talk about the Sedins linemate, as the Canucks top line is looking like a top line. Before Burrows was given the opportunity by Alain Vigneault last season, the constant issue for the Canucks was finding someone to fill in that role. Over the years, there have been numerous players who were pegged to be the 'Third Sedin', so here's a look at some of the more notable Third Sedins of the past, as well as a look at one potential future Third Sedin.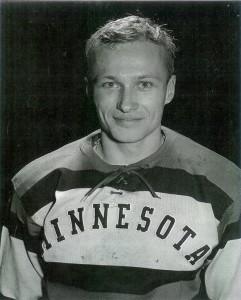 Jim Sedin
The Twins weren't the first Sedins to play hockey at a high level. That particular honor goes to Jim Sedin, a gent who played for the Minnesota Golden Gophers (now home to current Canucks prospect Jordan Schroeder) and represented the United States at the 1952 Winter Olympics, earning a silver for the men's team. His playing days long behind him, the 79 year old could be considered an honorary 'Third Sedin' based on sharing his namesake with the two Swedish brothers.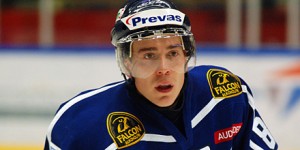 Mattias Weinhandl
Long before the Canucks were to make their mark in the NHL, they played on a Swedish team in the SEL by the name of MoDo. MoDo, was of course the same team that former Canuck Markus Naslund played on, alongside former Canucks nemesis Peter Forsberg. Their first linemate that really clicked with them? Mattias Weinhandl, who was drafted the same year as the Sedins were. The Sedins and Weinhandl clicked almost immediately, with Swedish pundits dubbing them Line 19, referencing their age as players. Weinhandl never really seemed to stick at the NHL level, earning stints with both the Islanders and the Wild. He's since gone on to play for Linkoping in the SEL and for Dynamo Moscow in the KHL.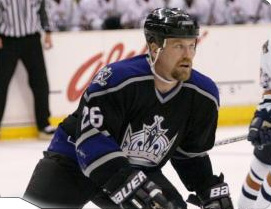 Trent Klatt
Klatt has the distinction of being the Sedins first linemate in the NHL in 2000-01. Playing with them, Klatt picked up 13g, 10a, while the Sedins looked good in their rookie campaign: Henrik tallied 9g, 20a while Daniel had 20g, 14a. Klatt was also the first of many to receive a cheesy nickname due to his play with the Sedins: Triplet.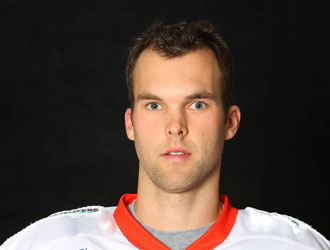 Jason King
King was another product of the Canucks drafting and one of the first players to be a beneficiary of the Sedins magic. After Magnus Arvedson didn't exactly pan out as a Sedin linemate (even with Daniel Sedin being moved to RW in favor of his fellow countryman), Jason King was given a shot, getting off to a hot start and earning Rookie of the Month considerations, as well as giving Canucks fans another cheesy nickanem care of the Sedins. Their line was known as the 'Mattress Line' as it consisted of two twins and a king. King himself didn't do much else in the NHL, getting a 4 game stint in Anaheim before jumping across the pond.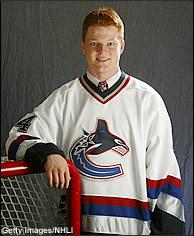 Cory Schneider
The Marblehead, Mass. native may be a goalie, he may not have a drop of Swedish blood in him and he may not ever become a regular on the Vancouver Canucks thanks to Roberto Luongo's contract, but darned if he didn't look like the spitting image of a long lost Sedin brother. Drafted in 2004, Schneider's been doing great things with the Moose, dominating in the crease much like the Sedins have been dominating the scoresheet.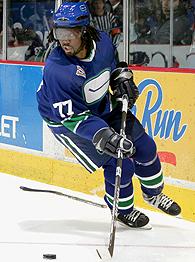 Anson Carter
Dave Nonis had his fair share of missteps while GM of the Vancouver Canucks, particularly when it came to finding forward talent for the club. Trading for Roberto Luongo, signing Willie Mitchell and drafting Alex Edler and Mason Raymond are all great moves, but Nonis' forays into the free agent market were lacklustre (anyone remember Byron Ritchie: NHL PP pointman? Or Jan Bulis: Rodeo Clown?) but there was one signing in Nonis' inaugural season as GM that worked out pretty well. Anson Carter was brought in to play with the Sedins and he clicked with them almost immediately, notching 33 goals and becoming the latest person to be dubbed the 'Third Sedin', as the Sedin line became known as the 'Brother Line', Carter being more brother than twin.
Carter's success was short lived, as he tried to parlay his stint in Vancouver into a paying gig in Columbus. That didn't work out, as he was dealt mid-season to Carolina. Carter's last brush with the NHL was in 2007 when he was invited to the Oilers training camp.
And finally, here's a look at a potential future 'Third Sedin', should things between the Sedins and Burrows ever fizzle…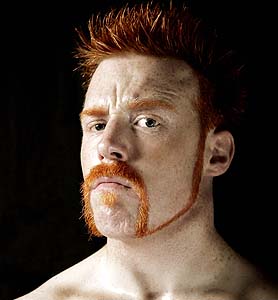 Sheamus
The current WWE Champion hails from Ireland, yet he looks like the Twins long-lost bigger, older, angrier brother. Should he ever decide to strap on some skates and give it a go, he'd fit right in alongside the Sedins, giving them some Pierre McGuire inspired 'Big Body Presence.' Crossover between hockey and wrestling isn't exactly unprecedented, either! Just sayin'!
Got a Third Sedin that I missed? Lemme know!