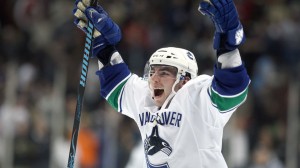 Playoff drama in December. Consistency was the big thing going into today's game. There's been much noise made regarding the Canucks being weak in the second period, I've written about how the Canucks need to be getting their special teams sorted out and Mike Gillis sounded off earlier in the week.
The good news? Special teams weren't a problem, as the Canucks ended up going 3 for 5 with the man advantage and were flawless on the PK, including killing off a double minor in the second period. The unfortunate news is that some bad habits die hard, as despite the solid effort on the PK, the Canucks were still outworked in the second, getting outshot 18-8 and getting some incredibly lucky bounces, including Marek Zidlicky missing a completely wide open net. The Canucks were also throttled in the faceoff circle and nearly let the Wild tie the game up late in the third period, a period that was otherwise solid. The problem, though? Consistency!
Believe me, I'm as sick of writing that word as you are of reading it.
Luongo has been good for letting in one bad goal per game and this trend continued in tonight's game as Luongo let in an utterly weird goal at the end of the first period. That said, he's continuing to look sharp out there, making a couple of brilliant saves prior to that gaffe.
Defense starting to look a little confused out there and I'm not sure what the issue is here. Bad read by Salo on the first goal, Schneider taking an absolutely unnecessary boarding call and Ehrhoff just looking 'bleh' out there (including a 'what were you thinking' giveaway in the second) were the lowlights of the Canucks D-Corps. I'm not sure I'm a huge fan of having both SOB and Schneider in the lineup at the same time but, injuries. Surprisingly, Bieksa played a solid game, looking dangerous in both ends of the ice, nothing really stood out to me with his play tonight.
Hordichuk ended up with 2:57 of icetime, while Johnson was a piddly 29% in the faceoff circle tonight. I bring up Hordichuk, because it's good to see AV recognizing when players aren't playing well and penalizing them for it. I bring up Johnson because, hey, isn't this guy supposed to be a faceoff specialist in addition to being a shot blocking fiend? Just saying.
Here's a comprehensive list of players who have more points than Henrik Sedin:
Joe Thornton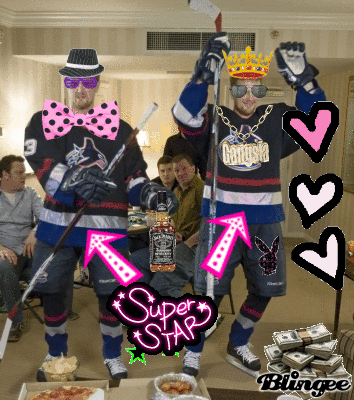 And people still don't think they're first liners or great players. Ridiculous!
Love Mason Raymond's play as of late. The Sedins and Burrows have been playing with a lot of confidence right now and it's showing on the scoresheet. That swagger has rubbed off onto Mason Raymond and is oozing off of him out there. Before this season, if Mason had the puck in the neutral zone he'd be making a bee line for the boards, get rubbed out and cough up the puck. Looking at him now, he's going up the middle, making smart use of his speed and is creating quality scoring chances. It's a treat to see.
Ryan Kesler, on the other hand. I was all prepared to write out that I felt bad for him, as he's been working hard game after game, without much to show for it. But he scored tonight after getting some glorious chances right at the beginning of the first.
Samuelsson had what was probably his best game in recent memory, as he's gone back to shooting and wasn't coughing up the puck. Samuelsson's at his best when he's playing a basic game. I'm hopeful we'll be seeing him scrabble back onto the scoresheet in the next game or two.
Also, Kevin Weekes. I hate ragging on him, because he's clearly enthusiastic and it's plain to see, but he really needs to move away from doing nothing but rattling off endless sports cliches. I remember when Kelly Hrudey first started on HNIC and he was also pretty bad. Hopefully with some experience under his belt he'll get better out there. That said…
Next HNIC, set up a team drinking game: team 1 takes a drink everytime Weekes says 'nuts and bolts', team 2 takes a drink everytime Weekes says 'laser beam' when referring to a player shooting the puck, team 3 takes a drink everytime Weekes says 'folks.' I insist on teams, because you'd be blackout drunk by the end of the first period were you to do it individually.
Canucks play their next game Monday against the LA Kings. Hopefully we'll see a con….vincing win against the Kings.