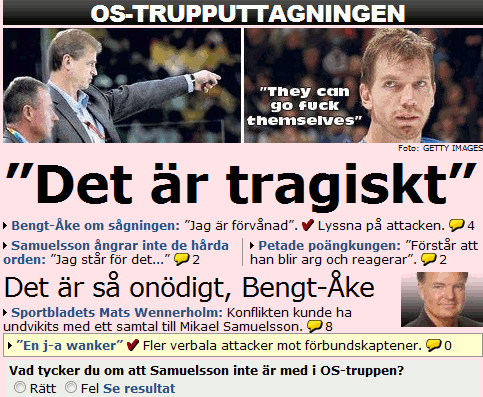 Well, hell. Looks like this whole thing with Samuelsson is taking on a life of it's own. For those who aren't in the know, Mikael Samuelsson, he of the Vancouver Canucks, was not named to Sweden's Olympic roster. Samuelsson also had some rather choice words about it, stating that Team Sweden brass can go 'fuck themselves.'
When asked about it by Swedish press, Samuelsson stated that he stood by what he said. (Funnily enough, the Google translation of the article I mentioned above had a nice gem, as apparently Samuelsson 'fired a really stinking sulfur ointment.')
Samuelsson also appears to have the support of hockey fans in Sweden, as a poll up on Aftonbladet's website asking if it was wrong to leave Samuelsson off the roster was hovering around 85% in support of him.
An Aftonbladet columnist wrote that the 'whole affair is about lack of communication or pure laziness' on behalf of Sweden's management.
And people are mad at Samuelsson for giving his opinion when someone asks him? Seriously?
I can't fault him for it. Nevermind the fact that it's the Olympics and just about anyone who has a pulse is passionate for their country and would jump at the chance to represent. No, what gets me is that Sweden's roster is one that's already going to be diminished and to exclude Samuelsson because of that doesn't make a whole lot of sense.
Mats Sundin has retired and injuries to Zetterberg, Franzen and Alfredsson leave some holes up front. In a curious move, Peter Forsberg, who hasn't really played a whole lot in the past 2 years, was named to the team.
Another forward, Mattias Weinhandl, was also selected, this, despite a poor showing at the 2008 World Championships in Quebec, having vision problems as a result of an eye injury, and having played in the KHL after brief stints with the Minnesota Wild and New York Islanders showed that he can't hack it at the NHL level. He's never played at the Olympic level and is going to be matching up against the likes of Alexander Ovechkin, Sydney Crosby, Marion Gaborik and Jaromir Jagr.
Samuelsson has and he's enjoyed success at the highest levels of play. Furthermore, he's played extensively with the likes of Niklas Lidstrom, Henrik Zetterberg, Johan Franzen, Tomas Holmstrom and Niklas Kronvall in Detroit, all of whom have been named to Sweden's roster. In addition to this, Samuelsson played with the Sedins back in 2006 and is on the same team as them this season. He is also playing in the city where the Olympics are being held and would know more about the little things on ice than someone coming from Russia or who has been out for most of the season. A minor quibble, that last bit, but still.
Fredrik Modin, who hasn't looked good since 2004 when he was on the Cup winning team for Tampa Bay, has played 8 games so far this season, has not aged gracefully and is a -3. If you were to look at stats alone, Samuelsson would clearly be the superior choice to Modin.
I could also criticize the decision to name only 12 forwards to a roster, several of whom are already injured and are not guaranteed to be ready or 100% come February 15th (the latest in which substitutions for injury can be made.) This is in addition to having a healthy Peter Forsberg on the roster, although Floppa's health is going to remain up in the air. Not naming Forsberg on the roster would have been stupid: the guy is one of Sweden's most popular players, can still be a force when healthy and was part of 2006's gold medal team. However, not taking any steps to guard against a possible injury by, say, naming 13 forwards to the club is stupid, especially since Sweden has decided to run with a whopping 8 defensemen.
Hell, I'm not even advocating for Samuelsson's inclusion, per se. There are a few other competent Swedish forwards that could be named to the team. Kristian Huselius being one of them (although Huselius has some political baggage due to rape accusations made against him, Henrik Tallinder and Andreas Liljas, which have resulted in them being blackballed from Tre Kronor.)
The number of defenders being named to Sweden has raised some eyebrows, but the individuals named to the roster have also resulted in some complaints. Mattias Ohlund is too old and slow. Who the hell is Johnny Oduya? Why is Douglas Murray named to the roster when he's had like 1 goal in the NHL? Where the devil is Alexander Edler? Yet the one name that isn't getting bandied around a whole lot is Magnus Johansson. He's another first time Olympian and an SEL veteran. He's another guy who had a couple of stints in the NHL (45 games, career -5) who didn't seem to be able to hack it at a high level of play.
The argument that could be made against Edler is that he's been very inconsistent defensively this season and that Sweden wanted some stability on the backend (hence the inclusion of Douglas Murray, for one.) Also, Sweden's PP units are going to have Lidstrom and Enstrom back there, so Edler's offensive pros could  be outweighed by his defensive game cons, thus warranting exclusion based on that.
If that's the case, though, then what the heck is Johansson doing on the club? Like Weinhandl, he's going to have to contend with guys like Kovalchuk, Iginla and Malkin. I don't really care how great he's playing in the SEL, if a country is committed to winning they should be icing the best possible lineup there is, not playing favorites or rewarding players. Canadians should know full well how that sort of thing can come back to bite a team in the rear: look at Team Canada's forgettable exit in 2006.
Unfortunately, politics may have also played a part for Edler, as he didn't take the 'proper' development route that a Swedish player is supposed to take: his decision to play in the WHL and forego playing for the SEL is considered by some to have hurt his chances. I've shown that Team Sweden can be political with Huselius and with Johansson, this would be a third example.
Despite that, Edler has shown that he's capable of standing toe to toe with some of the world's best players and would appear to be a better choice over Johansson, if they're looking for a sort of 'jack of all trades' defenseman rather than another defensive specialist, which is what Johansson appears to be. That said, I'd argue that Viktor Hedman, another glaring omission to Sweden's roster, would be an even better decision over those two.
Tre Kronor does have until February 15th to make additions to the roster and there's a chance that both Samuelsson and Edler could suit up and play in the Olympics: their relative closeness to the venues would make them an attractive option and it might even be something that the Swedish brass could be banking on.
We'll just have to see if Samuelsson's sewermouth didn't burn any bridges and if Edler can step up his play to garner enough attention to be considered.