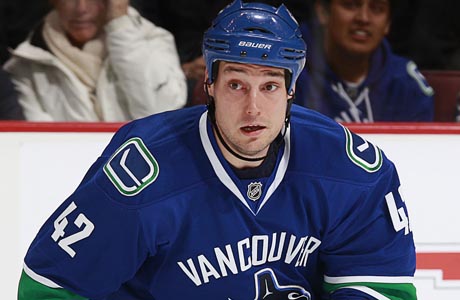 Alex Burrows continues to have a big month of January. There were his 2 goals scored tonight, which ended a 1 game scoring drought for the feisty forward.
There was also his post-game comments coming off of tonight's loss to the Predators. Burrows, whose name will be all over TSN, Sportsnet and everywhere else first thing tomorrow, accused official Stephane Auger of having a vendetta against him, which may have explained the chintzy calls that were going on in tonight's game.
I say 'may have' because the officiating was pretty godawful no matter who you were cheering for. There were several oddball calls made against the Predators as well. I'm not a fan of blaming officiating for losses, but looking at what happened with tonight's game, with Burrows getting 2 minutes for 'interference' late in the third and then later getting an unsportsmanlike penalty in the dying seconds, it's hard not to say that the officiating didn't contribute to tonight's loss.
Especially as more information regarding official Stephane Auger has come to light. Twitter was set ablaze due to Burrows comments that the official stopped to have a chat with him before the game. Information about the official who has a supposed grudge with Burrows was revealed rather quickly and it doesn't paint a flattering picture of him.
This was the same guy who was involved in that Shane Doan incident a few years ago, where Doan was accused of making comments about French Canadians to an on ice official and was also involved in some questionable calls against Phoenix in another game after that flap. This is the same guy who gave a questionable call to Alex Burrows last February in a game against the Montreal Canadiens, giving him five and a game for this.
This is the same guy who was involved in that Detroit non-goal call back in November. Yes, THAT non-goal ruling.
Now, whether or not Auger did have a vendetta with Burrows remains a matter for the NHL to investigate in and rule on. That said, Auger's reputation does sort of precede itself. Before any non-Canucks fans say anything, yes, I am aware that Burrows is no innocent darling himself, so the NHL head office is going to have a wonderful headache on their hands tomorrow morning as neither party is really on the side of the angels prior to this.
That said, this whole situation couldn't have happened at a worse time, as the league is already dealing with another situation involving the outcome of a game, where a local FOX affiliate is accused of witholding a crucial shot of a call that was under review. A bad PR blow, for sure, but one that could be contained. If Burrows comments about this referee pan out to be true and Auger did have a clear agenda going into the game, it's going to raise all sorts of issues for the league. Heck, the Burrows story made it onto the front page of ESPN last night and I don't think I have to point out how rarely that particular sports channel focuses on the Canucks.
Anyway, the GAME. That's what this postscript is about. Beyond the officiating (which, again, I thought was pretty horrible for both teams), I thought that there was another aspect that sorely cost the Canucks the game. A sloppy start, which saw the Canucks surrender both a short handed goal and a power play goal, put them down in the first period, meant that they were playing catch up for the rest of the game.
Not sure what precisely was going on with the powerplay tonight, as in addition to the short handed tally, the Canucks gave up a couple of short handed scoring opportunities. Not sure if Alain Vigneault and Ryan Walter were trying to switch things up and do something new with tonight's game (the powerplay had been noticeably silent the last couple of games) or what, but something wasn't working there.
Beyond that bad start, I thought the Canucks played a good game, in spite of everything else going on. Jannik Hansen, who was in the lineup after Steve Bernier tweaked his groin earlier this morning, looked good in his return and played a solid game, generating a couple of scoring chances with Kyle Wellwood. Glad to see he took AV's benching of him to heart and followed through with a solid effort.
Brad Lukowich also looked good in the few minutes he was assessed last night, although his 7:43 minutes of icetime was decidedly less than any of his other defensive compatriots. Not sure if AV is trying to ease him into the lineup or if he did something that he didn't like, as he only saw 1 shift in the third period. Something to keep an eye out, for sure.
Beyond that, I thought the Canucks played well in general and were getting scoring chances and skating well for the most part. Unfortunately, folks really aren't going to be discussing the game, instead focusing on the bigger (for now) issue dealing with Auger and Burrows.
Canucks go on the road for a brief road trip, facing off against Minnesota on Wednesday.