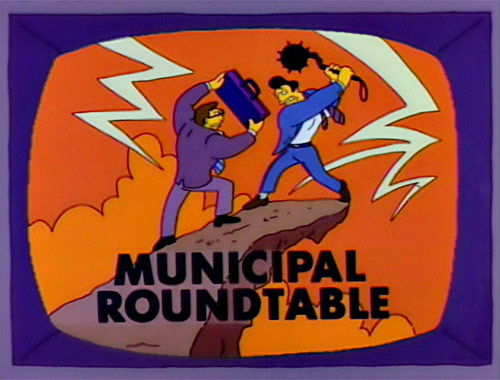 Well, the 'unofficial' trade deadline is fast approaching: the NHL Olympic roster freeze is set to take affect on the 12th, with the NHL Trade Deadline coming March 3rd. The League has already seen several high profile trades, with Dion Phaneuf becoming a Toronto Maple Leaf and Ilya Kovalchuk wearing a new jersey. Although GM Mike Gillis has said he isn't a big fan of rentals and he has been frugal when it comes to trades, it doesn't hurt to have some fun and speculation with what the Canucks could potentially do leading up to the trade deadlines. As such, I thought it'd be fun to get some of the Canucks bloggers to gather round and discuss some trade deadline topics.
Hey, it can't be any worse than Nick Kypreos and Doug MacLean arguing with each other on SportsNet, right? Thought so!
Joining me on the roundtable are Kent Basky of the We Are All Canuckleheads Podcast and Nucks Misconduct, Brian Wawryshyn of Canucks Corner, Cam Davie, Brigadier General of the Canucks Army and Clayton Corley, the Opiated Sherpa. All excellent bloggers and all have excellent sites, big thanks for them agreeing to do this. With that said, here's what they had to say to the questions I posed!
1) This recent spate of games has shown that the Canucks have 2 rather glaring weaknesses: an unreliable bottom six group and mediocre defensive depth. What would you identify as being more important to address through a potential deadline deal?
Kent: I'm pretty sure anyone who thought Willie Mitchell wasn't the most important member of the D for the Canucks realizes their mistake.  To their credit the Canucks have managed to keep the ship afloat with some bandaids from the Moose, but getting a puck moving defenseman that is solid on the back end is a must.  My dream is to bring Scotty Niedermeyer home for a playoff run, but the next couple days will likely see more teams decide who's a buyer and who's a seller. Bottom 6? Ray Whitney stands out to me as a guy who would fit well with Wellwood and Demitra. Or anyone and Demitra.  Whitney, Demitra and Fin? He has a better net presence than Bernier.
Brian: Defensive depth is the key to me. Bieksa may not be back and wasn't playing great when he went down and Schneider was a bust, leaving us an inevitable Sami Salo injury away from slim pickings. Thanks goodness for the Erhoff fleecing, or who knows where we would be on the blueline.
Cam: The fact that the Canucks have a mediocre defensive group only becomes an issue when Luongo plays below his average. We saw that for a few games on this roadtrip. We saw against Boston that, when Luongo plays at the top of his game, the team has a great chance of winning. Besides, Mitchell and Bieksa will very likely return in less than 10 games. The defense has had on thus far. The bottom six forwards have played horribly for a good chunk of the season. Sure, they now have Demitra back, but their main need is at Centre.
Clayton: If anything, I think the defensive depth is more important, because that can at least give a hand to our bottom six forwards, when they get in trouble.  If the Canucks are going to be staying put with the bottom six, which I doubt they are, but its a certain possibility, shoring up the defense can plug a hole or two when the bottom six break down.  Personally, a defensive defenseman and another third or fourth line centre is what the Canucks should be after at the end of the day.
Trevor: I think our defensive depth could use some rounding out, moreso than our bottom six. Sami Salo isn't the most durable of defensemen and there's no telling what Kevin Bieksa we'll be getting back. Call me crazy, but I think gaining Cody Hodgson (once his season is over in the OHL) and potentially bringing up someone like Matt Pettinger would do wonders with our bottom six. If I'm Gillis, I'd be shooting for a defenseman, preferably a defensive dman or a highly skilled 2 way guy.
2) Who do you see as being obvious trade bait or as someone who is clearly on their way out the door?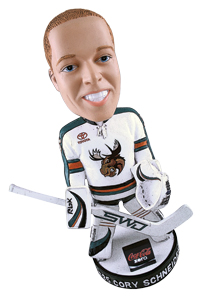 Brian: Obviously I think Cory Schneider's name has to be included in a lot of any Canucks trade talks and Luongo isn't going anywhere. I'd like to see Grabner get another shot before throwing him into a deal. That said, I think Hansen may be the most likely to be included in a any deal. I would be ok trading Bieksa, provided a defenseman came back, but with his injury it's not likely to happen this year.
Cam: I am not a Kevin Bieksa fan. I think he is often sloppy and careless with the puck, especially when coming out of his own zone. I would LOVE it if the Canucks made a trade involving Bieksa and brought back a more dependable top 4 defenceman. Cory Schneider is an obvious trade trip, with Luongo locked up for 12 years. Bernier and Wellwood are terrible, so I'd like them to be traded, but I don't see the Canucks getting much in return. I would prefer it if the Canucks held on to both Grabner and Hansen for at least one more year to see how their skills develop.
Clayton: I would have to believe that the list of players that are untouchable would have to be shorter than the trade bait list.  But really, now that we're coming down to the Olympic Break and the Trade Deadline, I don't know how much interest the Canucks are going to have from teams sending out their rentals for the Spring.  If the Canucks are going to dangle a player or a prospect, its only going to sweeten the deal that is on the table, so I would say that Schneider, Bernier and Grabner are the top three that are going to be dangled.
Trevor: I'd imagine Wellwood and Hansen are potential trade candidates, as Coach Alain Vigneault doesn't seem to be all that enamored of them. They aren't going to command much back in return, though I'm not sure what Gillis would throw in to sweeten the pot. I doubt Cory Schneider is moved.
Kent: I think Hansen could be a desirable project, he has a lot of upside.  I am not so sure that the Canucks wouldn't part with Schneider for the right deal.  Bieksa might have been movable if not for his cutting fetish. If Mike Gillis can get anything for Bernier, I will kiss him full on the mouth.  No tongue though. I wouldn't want it to be awkward. I bet though in the end, it's Grabner that gets shipped out.
3) That said, if you could protect ONE potential trade chip who could be sent packing, who would it be and why?
Cam: Mason Raymond. There has been a lot of talk about about Raymond being possibly traded. The Canucks have invested a lot of time in Raymond, watching and helping him develop. Finally this year, their work paid off and Raymond is having a break out year. I would hate for the Canucks to finally trade away Raymond after all their patience with him. Especially if he's an RFA at the end of season. If he is worth something, and the Canucks get an offer sheet on Raymond, he may be worth more then than he would be as trade bait now.
Clayton: As much as Cody Hodgson is getting hung in the media, I still want to see him in a Canucks uniform, giving it the ol' college try.  The name-calling and the assumption that he isn't going to work hard aside, the kid has the potential to be a top line centre, although he'd have a long time to wait behind the twins, so why not keep him around?  If he needs to be punished, then keep him in a system where he isn't going to see great minutes and he can either pout or play.  There are no guarantees to what the Canucks can get for him in any deal, just as much as there isn't any guarantee that he'll reach his potential, but I'd rather wait on a top line forward than the garbage the team might get back.
Trevor: I'm a fan of both Grabner and Bernier, but picking one? Hmm. I'll go with Bernier, as the Canucks don't seem to have much in the way of big players and have a number of speedy, 'soft' forwards. Sorry, Grabner, but I'd rather see you do well in the NHL than languish on the Moose!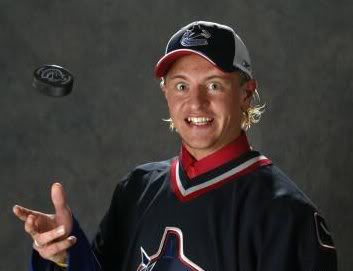 Kent: I have the car warming up as I type this.  Tell Bernier to wait in front of his house.  So I say Grabner, just because that goal he scored against the Blackhawks was better than ANYTHING Bernier's done as a Canuck.
Brian: I'll go with Grabner. Simply because we just haven't seen what he can do. He was starting to play well before he got hurt, and I want to see a little more. Bernier is a what you see is what you get player. We've seen him at this weight, we've seen him heavier, and on both cases it's really nothing to get excited about.
4) Do you want Mike Gillis to tinker with the top six at all? Some may subscribe to the 'if it ain't broke, don't fix it' philosophy but there are 2 upcoming RFAs in Raymond and Kesler. Do you move either of them if the opportunity presents itself, and if so, for what?
Clayton: The beauty part of what this rental system can do is getting a player than can be either that first, second or third line player that can just fit anywhere. If one name was to come to mind, it would be Ray Whitney. A possible fit with any real pairing: the Twins, Kesler and MayRay, Welly and Samuelsson, that's the kind of flexibility that has to be appealing. If the Canucks can swing something like that, I would be okay with it.
Brian: Of all our offensively gifted young talent, Mason Raymond should not be moved. Great speed, and is learning to go into the right areas to score. Kesler is the type of player we'll need for the playoffs, and is also untouchable in my opinion, unless he's indicating he'll be swinging for a home run on a new deal. Both are still evolving as players, and I'd like to see both retained and made part of the core. If we're going to make a deal, I'd prefer we used prospects and draft picks and make our run in the next two years.
Trevor: I actually wouldn't be opposed to moving Mason Raymond should the right deal present itself. I think he's probably our best bargaining chip right now (young, future RFA, has potential) but it depends on what is available. Buy low, sell high, as the old saying goes. Kesler should remain untouchable, though. I don't think anyone wants to see Kyle Wellwood: Second Line Center for the rest of this season/playoffs.
Cam: No. The top 6 are working very well right now. I would much rather see an upgrade on the third line than either of the top 2 lines.
Kent: As much as I hate the thought of parting with a guy like Mason Raymond, I think he is flying under the radar in the media, but not other teams GMs. I wouldn't be at all surprised to find out there have been some tire kicking with his name coming up. Kesler I think has way too much upside to give up on. He still isn't playing his best hockey yet in my mind, and his leadership this season in the face of injuries has been stellar. I think a Schneider/Raymond/(fill in the blank) package would net us all the help we need.
5) If Mike Gillis could utterly fleece a GM and bring back a highly coveted player for very little in return who would you want it to be?
Trevor: I'd probably lean towards Niedermayer as he fits the blueline issue that I feel is the biggest concern with the Canucks to a T. His playoff experience would be invaluable and he may just be motivated playing for a Canadian team/for Vancouver after captaining Canada at the Olympics. As it is, I think he'd be too pricey to pick up otherwise.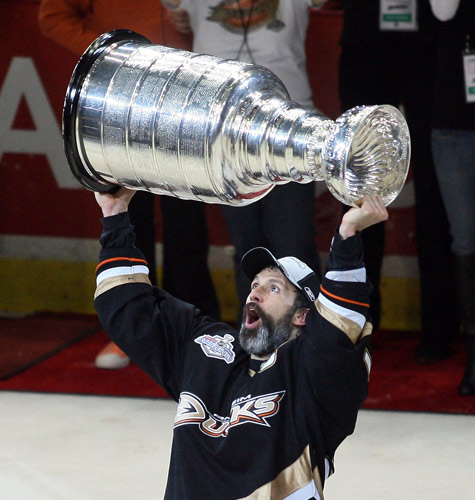 Clayton: I would have to go with Niedermayer as well.  I suppose if we're out to fleece, getting a playoff-proven defender like Nieds would be special for the Canucks.  Hell, I don't even think they need to fleece Anaheim for him, but its definitely a nice thought.

Cam: Gillis would have the most luck fleecing the Oilers out of Souray, because I don't think Tambellini is a very good GM. The Anaheim Ducks may also be doing a lot of selling at the trade deadline though. So Neidermayer to the Canucks might be a distinct possibility.

Kent: Growing up in Kamloops I was spoiled by getting to watch a lot of incredible junior hockey, so I have a soft spot for Niedermayer.  He is a true warrior in the playoffs, won literally everything there is to be won in hockey.  What a better way to end his career than close to home.  If Souray hadn't broken his hand on Iginla's face, he would be attractive, can you imagine a power play with him and Salo cranking shots from the point?  Kariya is interesting, he has shown signs at times this year, it's just a question of is he past it all, or is it the team he is playing on.
Brian: Even if Gillis could pull of a fleecing, salary would prevent a deal from happening in all likelihood, but if I had to pick I would go with Niedermayer.  Experience, leadership and he's probably got a few good playoff games in him. See above comments regarding needed depth on defense.
6) Name an unlikely player that could be coming the Canucks way this trade deadline.
Kent: I like this part, because it allows me to make up total BS and then if I am wrong, I say "Aww, I just jerkin' yer chain" but if I am right, I get to scream out "I freakin' rock!!" and for like 3 days people will hang on my every tweet.  Unlikely huh?  Here's a scenario: Anaheim realizes just how bad Vesa Toskala is, so we ship Schneider, Bieksa and Raymond to the Ducks for Teemu Selanne and James Wisniewski.
Trevor: Brad Winchester. Unlikely only in the sense that I think most fan expectations will be a lot higher. Remember that Ossi Vaananen was like the only guy the Canucks picked up during the stretch run last season.
Brian: Paul Kariya. He may be traded, but I just can't see it being here. I think he could be a good fit however, and it would be nice for him to play at home and help the Canucks go on a strong playoff run.
Cam: Sammy Pahlsson. I think the Blue Jackets will start selling off players soon, as they plummet down the standings. Pahlsson would be a welcome edition as a tough third-line center.

Clayton: A little bit of digging had to be done for this one and I think a great candidate for the unlikely, but possible, choice would be Lee Stempniak in Toronto.  Not a centre, but at least a good grinding winger that has 14 goals… I'd buy into him.
And that does it for the roundtable! Once again, a big thanks to everyone for participating. Hopefully we'll be able to get this to be an ongoing feature down the road. Once again, the Olympic roster freeze takes hold February 12th and the Trade Deadline comes March 3rd. Now you know who to point and laugh at (me) when their predictions are all horribly wrong!