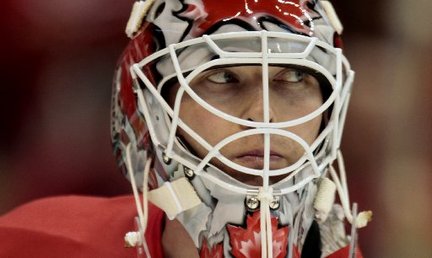 Let's get one thing out of the way really quickly: I think Martin Brodeur is an excellent goaltender, arguably one of the greatest of all time. I believe he 'earned' the right to start against the United States on Super Sunday: his credentials, along with a strong performance against Switzerland paved the way for Brodeur to start.
This blog post isn't about Martin Brodeur. What it is about, though, is Damien Cox and his love affair with Martin Brodeur and the subsequent behavior that sprung out of said affair.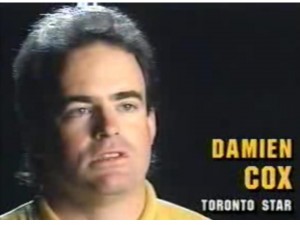 Ladies and gentlemen, Mr. Damien Cox.
Why am I writing about him? Well, it stems from some comments Cox made on Twitter and in print in the wake of Canada's loss to the Americans on Sunday. He doesn't think that Martin Brodeur was handled properly and that Roberto Luongo shouldn't be getting the start.
No, seriously. He flat out said he's 'not a fan of Luongo.'
This is all well and good. Everyone has opinions regarding Team Canada. Stamkos should be on! Pronger should be off! Start Fleury! Etc. Were it just Damien Cox voicing his opinion, that would be fine and expected for someone like him.
It becomes a problem, though, when someone like Cox has co-written Martin Brodeur's autobiography and goes off on a childish rant in defense of his professional accquaintance.
I think that Cox himself knows that, as he penned a missive to his critics yesterday. They included folks like Jason Botchford, of the Vancouver Province, who merely Tweeted 'It's worth noting today that Damien Cox wrote Martin Brodeur's autobiography.' William Houston, a former Globe and Mail writer, also chimed in on Cox's defense of Brodeur, suggesting 'maybe Cox has a man crush on Brodeur' before pointing out that Brodeur played badly against the Americans. This is in addition to the hordes of idiots (myself included!) who Tweeted at Cox regarding his words.
It's pretty unusual for a journalist to address his detractors: writing for the public means you'll always have people disagreeing with you and if you spent your time arguing with them you'd never get anything else done. Cox argued that the debate about the goalies is more interesting than his reasons. Fair enough, but when you overreact to a goaltending decision the way Cox did, you have to wonder where he is coming from. Especially when you don't directly address your fellow scribes who are taking the time to criticize you, something which Cox has done in the past.
Am I being ridiculous here? Well, here is the total sum of what Cox had to say about Brodeur's goaltending in the American game:
'Against the U.S., however, Crosby and Brodeur both had games that won't make it into their home highlight reels.'
No mention of the weird baseball swing Brodeur made that directly led to a goal against. No mention of his decision to try and engage in a shoving match with an American player instead of trying to play the puck, a decision which led to the game winning goal for Team USA. Both noteworthy, game changing events, both totally possible talking points.
Conversely, here is what Cox had to say about Luongo, who didn't play a single second in Canada's loss to the States:
'The expectation in many corners is that Roberto Luongo will get the nod in goal against the Germans.
The problem with that is, assuming Canada wins, sticking with Luongo would make sense even though all he'd have on his resumé would wins over Norway and Germany going into a do-or-die match with Ovechkin and Co.
"That's not my call, buddy," Luongo said when asked whether he believed he would start. "I'm here for Team Canada. I'm not here for Roberto Luongo."'

Seems a little out of whack. Heck, Cox devoted more space to talking about Alexander Ovechkin, who plays on Russia, for those unawares, than he did Brodeur.
But things got really weird on Monday. Cox penned one article, saying the move to make Luongo the starter was a bad decision. He claimed that Brodeur feels he was 'blamed unfairly' and 'undoubtedly disrespected' by Mike Babcock. Did you notice that there were no direct quotes in that link? It's because Cox was speculating, yet dressed it up as though he knew what precisely was on Brodeur's mind.
Radio broadcaster Greg Brady, who co-hosts the Bill Watters show on AM 640 in Toronto, noted this. He also brought it up in an interview (select 'Damien Cox' from the menu) that he conducted with Cox yesterday. When asked if he had spoke with Brodeur he got really evasive and tried to deflect the question, saying Brodeur is 'classy' before finally saying no, that he hadn't while claiming 'I know that's how he feels.'
Cox then went on in his article making comments that Luongo is a choker and essentially piled on him. Again, no real mention of Brodeur's play or why Mike Babcock might be making this decision. Readers were left to speculate as to why Mean Mike Babcock is picking on Marty.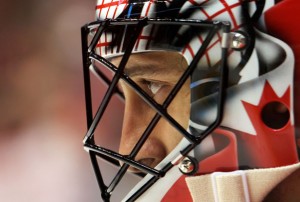 Then, Cox penned another article, talking about the 'great debate' surrounding Canada's goaltending.  He begins by criticizing Luongo's butterfly style and how Team Canada will have to 'adjust' to him. Still no mention of what could have possibly led to Babcock's decision to sit Brodeur.
He then turns his attention to Babcock, saying that he should be 'roasted on the spit of Canadian hockey opinion' if his decision to start Luongo is the wrong one. Yes, even if Russia suffocates Canada's offense and they lose 1-0, it'll be Babcock and Luongo's fault.
So, that makes 3 full articles published by the Star and one radio interview discussing how Cox feels about Brodeur, with the only criticisms levelled at Luongo being the quoted piece I listed above, with the rest being an all out attack on Luongo and Babcock.
Overkill? Apparently not, as Cox also felt the need to white knight for Brodeur on Twitter. His response to folks being critical of Marty? They don't understand the game of hockey.
So, yes, I think that Cox went way overboard in his defense of Brodeur. I also think highlighting the fact that he wrote a book with Brodeur to be an important detail that would explain what other journalists (Botchford, Houston and Brady) took notice of.
I think that Cox's defense of Brodeur also extends to how he treats other subjects. Take Brian Burke. Cox rarely has nice things to say about the Canucks, even on a good day. There were his comments about Burrows and Auger, but he's also taken snipes at the Canucks for signing Sundin and the Canucks past history, all the while claiming that Toronto doesn't care about Vancouver or the Canucks at all. He also said that the 1994 Canucks were an 'inconsistent team that lacks chemistry' way back in April of '94.
Things got really ugly in 2004. That was the year when Todd Bertuzzi tried to take Steve Moore's head off. Cox had a field day with it, rightfully decrying Bertuzzi's actions and going on and on about fighting and 'the Code' and everything else. Funnily enough, Cox also had a personal connection to the Moore/Bertuzzi incident, as he had met Moore years ago. No, I'm not implying that Cox wrote about Moore because he met him, it's just an observation.
Anyway, Cox had lots and lots of things to say about Bertuzzi. He also had things to say about former Canucks coach Marc Crawford, saying he was 'smirking' as events unfolded on the ice. Oh yeah, and he also had something to say about former Canucks GM Brian Burke, who he described as 'overcaffeinated' and that Burke was running 'an emotional, aggressive team' insinuating that he had a part in what happened with Moore.  Cox also gave Burke grief for comments he made about Moore's health, saying 'It's hard to forget in the days immediately following the incident, for example, hearing Burke dismiss the severity of Moore's injuries and claim that he'd be back playing in a matter of days.'
Interestingly, despite making a point of tying Burke to Bertuzzi, Cox's recent ruminations on Brian Burke have been nothing but rosy recently. I wonder what could have possibly changed his opinion on things?
Despite blasting Burke for having an 'emotional, aggressive team' with the Canucks, Cox talked about those same qualities in glowing terms with regards to the Leafs, talking about the fighting majors of the Anaheim Ducks (Burke's previous team.) In an article on the eve of Burke signing with the Leafs, nary a negative word was found about Burke and zero mention of Moore was made.
It should be noted that Burke has been known to be adversarial with the media and has refused to accomodate some media types. The most notable being flaps he had with Vancouver radio broadcaster David Pratt and Vancouver journalist Tony Gallagher. Not saying that the two are related, but, well, you have to wonder why there is no mention of Bertuzzi/Moore in relation to Burke on the eve of his becoming GM of the NHL's biggest club, considering it was one of the most high profile incidents he'd ever been involved in.
The amount of fawning Cox has done over Burke now that he's the Leafs GM is comical. Take this article, from last year.  The Bertuzzi Incident? Burke had 'lived through' as though he were a modern day Job. He praises Burke for making the Leafs 'destined to be one of the NHL's goonier teams, a club dominated by North American talent and muscle', aspects which he found deplorable with the Canucks.
Could Cox have changed his tune when Burke became Leafs GM? Could this be another instance of Cox showing preferential treatment due to his relationship with a subject? They're good questions, for sure.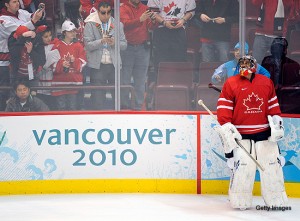 Finally, let's talk about Roberto Luongo. Cox's opinions on Luongo have also shifted and swayed. Last night on Twitter he was outright hostile, commenting twice about Luongo 'flopping around.' Amazing how focused Cox gets on goaltending when it doesn't involve Brodeur.
But let's look at things a little more indepth. In November of 2008, Cox wrote that 'even after winning another Vezina last season, he was going to have to play well this season' and pointed out that Brodeur's injury woes has put in doubt that Brodeur would be an automatic decision for Canada's #1.
Over 3 years ago, Cox wrote that Luongo was 'a player who could handle major expectations as he'd done while playing for Canada at world championship tournaments.'
In April of last year, Cox noted that this was Luongo's chance to 'knock out the champ' (Brodeur) when talking about the Olympic starting seat. Cox also mentioned 'much the same was said last fall when Brodeur went down with a torn bicep' neglecting to inform anyone that it was he who was saying that. Also of note in that article was that this wasn't the first time Luongo has gone in relief of Brodeur: in 2004 Luongo 'rescued' Team Canada with a 37 save OT effort at the World Cup when Brodeur was out with an injured hand.
So, Luongo finally has a chance to shine. To wrest the 'throne' away from Brodeur. Cox did a great job of talking it up over the past 2 years, only now that the moment is here, he's pitching a huge fit. He will not go quiet into the night. What happened?
My guess? Cox knew that there was very little chance that Luongo (or anyone else, for that matter) was going to be anointed as the #1 goalie for Canada for the 2010 Olympics over Brodeur. As a result, he could safely speculate away, knowing that Brodeur's job was safe. Then, when things got ugly and Brodeur's job actually was in jeopardy did Cox's true colors emerge and we got three over-the-top articles defending Brodeur's honor, a radio interview and some nonsense on Twitter.
I also think that Cox is not above acting unprofessionally, which is how I view his white knighting of Brodeur. It wouldn't be a first for him, either, as there was his Tweet which cut down former Islanders VP Chris Botta, saying: 'beware outta work P.R. guys scratching and blogging, pretending to be journalists.' I don't know what sort of personal disagreement exists between Botta and Cox, but it's yet another example of Cox's personal biases and emotions leaking into the material he presents to the public in a gross, ugly fashion.
So, no, Damien Cox, I have to disagree. I do think your affiliation with Martin Brodeur is of importance, given the size of your reaction and the rapid 180 you've made on Roberto Luongo as goalie of Team Canada. I also think that this isn't out of the character for you, as based on your reversal in opinion on Brian Burke once he became GM of the Leafs.
No one is begrudging you your opinion in the Luongo/Brodeur 'debate', but what people are questioning is your motivations for doing so. The lack of criticism on Brodeur's play, while piling it on thick for any of Marty's detractors, coach Mike Babcock and Roberto Luongo also speak to this.
Perhaps if you had given some consideration to both Brodeur's positives and negatives when evaluating him folks wouldn't feel this way.