Seriously?
Like most people, I wasn't exactly thrilled with the bands that were involved with the closing ceremonies to the Winter Games Sunday night. Inward Eye, Simple Plan, Hedley, Nickelback and Avril Lavigne to close out the biggest international sporting event held in Canada in over 22 years? Horrible.
It's not a matter of personal taste, either. While yes, I'm not a fan of any of the bands/performers listed (and in one case, had never even heard of Inward Eye) the decision to include these folks was mind boggling.
Canada has been getting talked up as this incredible musical meccha and has been churning out a ton of remarkable artists over the years. Rolling Stone and Spin magazine both did features on Canadian music back when the Arcade Fire first blew up internationally. There's a ton of great artists out there and yet we're stuck with Avril Lavigne singing 'Girlfriend'?
That's the biggest problem I have with the performers. Sure, if those performers have a song that could fit in thematically with the Olympics, by all means, go hog wild. But what in the hell does 'Girlfriend' have to do with the Olympics? What does Nickelback's 'Burn It To The Ground', a song that serves as the opening theme for WWE's Monday Night Raw show, have to do with the Olympics? Hell, what does Nickelback, the most 'American' Canadian band in the world (read: creatively, intellectually bankrupt, self-described as being 'the McDonald's of music') have to do with Canada?
Nothing, that's what. It was a stupid attempt at pushing merchandise. Given the amount of crap hockey goalies were given for including corporate logos on their masks, I'm amazed that such a brazen sales attempt made it past the IOC. I was expecting Sugar Jones to take the stage at any moment, then I realized that Sugar Jones were a product of a Global television show, so no, they wouldn't have appeared. But it didn't stop Eva Avila from appearing (gotta plug CTV's Canadian Idol, after all!)
As for Simple Plan and Hedley? They're jokes, artistically and financially. It doesn't hurt that both of them are complete shills for CTV, who also own MuchMusic and MTV. Hedley, of course, features Jacob Hoggard, another Canadian Idol alumni, so it was almost a given that they would appear in some capacity seeing as how they also hail from British Columbia.
Simple Plan, well, they've been cozy with CTV for ages. Recall how they had that godawful 'reworking' of the classic Hockey Night In Canada theme? Or how there are contests involving Simple Plan and CTV?
The running joke with those two was that if you had an event, be it a liquor store opening, a bar mitzvah, the MMVAs or something else, either one of them will be there with bells on, because they literally have nothing else to do. So, congratulations on your years of servitude, guys. Your song selections ('Love Is A Lie', 'Cha Ching') really embodied the Olympic spirit, as well as serving as something that totally embodies Canada.
That said, I have to say that including Alanis Morissette and Neil Young were good calls. I'm not a huge fan of Alanis, but she definitely belongs in the list of top Canadian performers in the past two decades or so. Neil Young was a perfect (ableit surprising) inclusion, as the guy is a living legend. He represents Canadian music of the past and his song 'Long May You Run' actually worked incredibly well thematically for both the Olympics and the closing ceremonies.
The fact that there were so many great performers overlooked really grates on my nerves. I can't imagine that in a country that boasts so many great musical artists and performers that none of them couldn't have made themselves available for the closing ceremonies. Who?
Well, the obvious choice for me would've been the Tragically Hip. Can you name a more blatantly Canadian group out there? (The Barenaked Ladies, maybe.) 'The Lonely End Of The Rink' would've been a great way to cap off the women's and men's gold medal wins.
What about Metric? 'Gimme Sympathy' could've been a barnburner.
Arcade Fire? They were 'only' just featured in that Spike Jonze flick and are one of the bigger Canadian bands out there.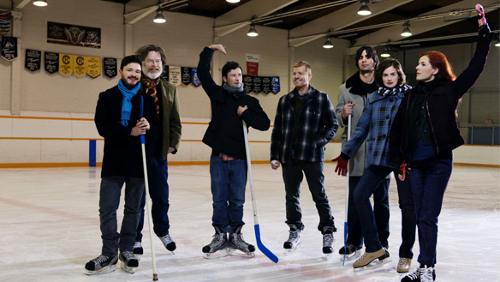 The New Pornographers? They're BC based and just wrapped up a new album, so they could've been available.
Sloan? One of the bigger groups of the 90s who are still going strong. 'If It Feels Good Do It' could've been another good Olympic anthem.
Tom Cochrane? If you have Bryan Adams, there's no reason to overlook Tom Cochrane.
Rush? They have the credentials and blow Simple Plan out of the water in terms of talent, staying power and the like.
City and Colour? I hate them, but they'd be another superior choice, as I can appreciate what they do.
K'Naan? Bedouin Soundclash? The Stills? The Trews? Arkells? Malajube? Joel Plaskett? Sam Roberts? Your favorite band that I completely forgot about?
So many great artists and this is what we got. A Superbowl halftime show, Canada style: safe and saccharine with a giant inflatable beaver. If Vancouver was attempting to create a closing ceremonies that served as an exclamation mark, an 'THIS IS CANADA' statement to end the Winter Games, they failed miserably by making such a horribly Americanized closing segment. Worse, the closing ceremonies came off as looking way, way too old. Canadians were hoping for Conan O'Brien: hip, cool, something to be proud of. Instead, we got Jay Leno: old, contrived, boring.
Yeah, I'm probably losing my mind here over what is essentially an inconsequential television program. But Canadian music is something I'm passionate about. I think Canada has a ton of great artists and performers, Vancouver being one of those great hotbeds for Canadian music. There are government programs, like FACTOR, that have been able to help out artists who haven't established themselves and there have been so many great stories in the past couple of years that it frustrates me so much to see the route CTV took.
The music industry is rapidly moving in a new direction, iTunes have seen to that. It's moving past the force-fed, you must listen to this as you have no choice that the industry has largely consisted of for the past 60+ years. Despite what music guru Alan Cross says, we don't need Nickelback. Or Avril. Or Simple Plan. Or anyone else for that matter. The industry is largely one that is niche-filled and fragmented, almost multicultural, distinctively Canadian. It's moving away from the large melting pot of American music.
The closing ceremonies could've been a great way to show that Canadian music is progressive, that Canadian music is a part of the future, not a relic of the past. They blew it.