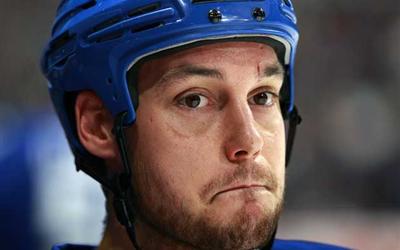 You win some, you lose some.
And sometimes you lose horribly. Guess what category tonight's game slots into?
Yeah, this matchup had just about everything tonight. Some fights, some 5 on 3s, a goalie getting pulled, a lopsided score. Just about everything.
Unfortunately, most of that was in favor of the Chicago Blackhawks. As seems to be the case whenever these two teams meet up, things typically get ugly. Sometimes it works out in favor of the Canucks, as with the 5-1 win the last time these two teams met. Other times, well, we get things like tonight's game or Game 7 from the playoffs last year.
I brought up Chicago's depth in an older blog post when examining the Canucks bottom six. Although I will give Ryan Johnson full props for being an instrumental part of a 5 on 3 penalty kill right at the start of the game, the Canucks overall weak bottom six has come back around to cost them more often than not.
Tonight? The Hawks third liner, Dustin Byfuglien, takes Alex Burrows, who is a first liner, off after a scrap, while also drawing a penalty. They got some offense from Kris Versteeg.
The Canucks bottom six? -3, 11 PIM and 4 shots on net. Not exactly stellar numbers and the lack of a solid bottom six certainly hurt the Canucks efforts in getting a win tonight.
However, it's not what cost them the win. No, that would have to be laid at the feet of the Sedins, who have now failed to score in 18 combined games. It's bad when Alex Burrows is carrying the offense on the top line, especially for such an extended stretch. I understand that you can't have your top players having multipoint nights every single time they step onto the ice, but this goalless drought from the Sedins and the general lack of production from them is worrisome as we work our way closer to the playoffs. That they were at best a non-factor against the Chicago Blackhawks, who are a potential playoff opponent should the Canucks make their way out of the first round.
What's also worrisome is how seemingly easy it is for the Blackhawks to get Roberto Luongo off of his game. The recipe itself is simple: send bodies to the net, cramp his style and interfere with his personal space. I'm amazed that other teams haven't figured it out, or if it's simply something that Chicago is uniquely gifted at doing, but man. At least one of the five goals that Luongo allowed in the first period came as a result of his being ticked off at Chicago for their antics. Not something you expect from a gold medal winner. I hate to say it's 'uncharacteristic' but Luongo does have a habit for getting upset at perceived non-calls or when players are crowding his space. I will say that it doesn't happen very often, but when it does happen (Game 7 last year, elimination game against the Anaheim Ducks) it's usually very costly for the Canucks.
That said, I thought the Canucks did a good job of at least generating scoring chances on Huet, although given the skill mismatch between Luongo and Huet, you'd figure the score would've been a little closer. Kesler continues to be a beast out there, scoring yet another goal on the road, while Demitra continues looking awesome post-Olympics.
Andrew Alberts also looked fairly good, I thought. Although he didn't really assert himself well in his fight against Seabrook, he's bringing the right mentality to the team, had a couple of nice bodychecks right in front of the crease and added a point in his Canucks debut. New players don't always fit seamlessly into a new system/team, but I think he's headed in the right direction.
Also, how about that Sami Salo? The only member of the Canucks D who ended up a plus and logged the second most icetime (20 minutes and change, second only to Alex Edler's monstrous 26:57 of icetime.) I've said it before and I'll say it again: folks don't know how important Salo is to the Canucks blueline until he's gone. That said, pleasepleasepleaseplease stay healthy, Sami. You were a shot blocking fiend tonight and that's just playing with fire.
Canucks are off to Nashville where they face the Predators in a Sunday matchup. Hopefully they can go 1 game over .500 both on the road and against the Central division!