Whao, hey! Yeah, I'm still here.  I recently found work in a rather stressful/time consuming job so there's been less time for Tweeting and blogging.  I've also been working on some creative fiction, which has also eaten into my blogging time. Apologies all three of you (Mom, Dad and my pet) who frequent this blog.
So the NHL Awards were tonight and Henrik Sedin just won the Hart. I'd just like to take the time to say…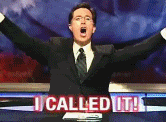 Check out what I wrote back in January if you don't believe me!
I should have some stuff up on Friday for the NHL Entry Draft, as well. Til then, I think I'm just going to bask in the awesomeness of Hank's Hart trophy.