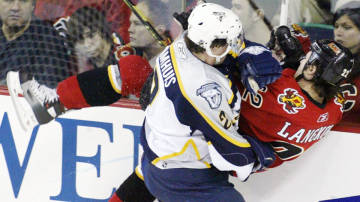 Despite Canada Day being a national holiday, Mike Gillis was hard at work for the Canucks, with 4 players getting signed to deals. Interestingly enough, this wasn't a disappointing July 1st in terms of fan expectations: Mike Gillis said he was going to go out and find another defenseman and upgrade the bottom six and that's precisely what he did.
Dan Hamhuis is clearly the centerpiece in today's free agent signings. Hamhuis turned down more lucrative contracts in order to sign with the Canucks. The $4.5M/6 year deal looks pretty good, too. Hamhuis is 27, so his deal would take him until he's 33. He also has potential to put up points: his rookie season saw him tally 38 points total.
Given that Nashville was a bit of an offensive black hole, it's possible Hamhuis could 'bounce back' offensively. In that case, his deal would be looking like a steal. Hey, it could happen: both Mikael Samuelsson and Christian Ehrhoff have had very good seasons within the Canucks system, so odds are looking good for Hamhuis.
Even if Hamhuis ends up continuing with his usual points production I still like the contract. Waiting on Willie Mitchell could have really hamstrung the team and the Canucks were desperately needing another reliable defensive defenseman. Mitchell's cap hit when he signed 4 years ago was $3.5. Going with contract inflation, a $1M increase for a younger player who has some potential upside isn't that horrible in my mind.
Hamhuis' arrival has also all but signified the end of Kevin Bieksa's days in Vancouver. That alone should be cause for celebration amongst Canucks fans.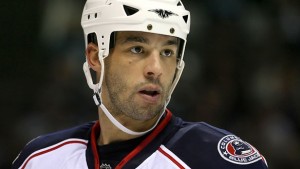 Manny Malhotra is the other big signing. Now, with all due respect to Pierre McGuire, but I think he's out of line with the comments he made about this signing and the impact that it will have on Cody Hodgson. McGuire flat out said that the Canucks clearly don't want Hodgson and that the youngster should be requesting a trade.
I think that's a little much: Hodgson, as talented as he is and as big of a fan of him that I am, is untested at the NHL level. Throwing him into the deep end and expecting him to sink or swim is a bad idea unless you're a generational talent like Crosby or Ovechkin. Far better to bring him along slowly. With Malhotra, the Canucks are getting a reliable, veteran bottom six center who improves the Canucks faceoffs, penalty kill and (ugh) truculence. Huge upgrade on Kyle Wellwood, given that the Canucks really didn't need offensive output from him, and a great insurance marker in case Hodgson has some growing pains.
Additionally, the Canucks strengthen their center depth with Malhotra, something which I think is vitally important for teams looking to do some major damage in the playoffs. A center core of Henrik, Kesler, Malhotra and Hodgson looks pretty good to me, even if Hodgson ends up playing on the wing.
Then there's Joel Perrault, another bottom six guy who was signed to a one way deal for $510,000. Perrault has spent the last couple of seasons in the AHL and I'd imagine that this is a very Jason Krog like move: if Perrault can't make the Canucks he either bolts back to Switzerland (where he had a deal signed already) or goes down and helps out the Moose. I'm hoping Mario Bliznak beats out Perrault for the fourth line center spot and Perrault spends his time in Manitoba, but we'll see.
Finally, there's Jeff Tambellini, the final Canucks free agent signing of the day. It's been confirmed that he was signed to a 2 way contract, so I imagine that he'll be Moose fodder: he's had several opportunities to try and make the Islanders and was outperformed by Robbie Schremp. On the other hand, Tambellini is a 30+ goal scorer in the AHL, so I imagine that this is Gillis' way of replacing Grabner for the Moose. Not bad when you look at it that way, although if he can come through as a reclamation project, he'll be an incredibly savvy signing.
All in all, a good day for the Canucks, especially as the Blackhawks continue to get rid of their assets, San Jose not making any significant moves and the Flames continue to be operating upon the basis of a man deep in the delirium of an ether binge.