So apparently the Kurtenblog folks have moved on and there is a void on the Vancouver Province's website! Perfect, sez I, a journalism student who is looking for any sort of opportunity to showcase myself. And what better way than to dash my hopes and dreams as a journalist than right here, right now? Exactly! So, here is my most recent post up on here, addressing the Canucks enforcer 'issue.'
A lot of discussion has been brewing over whether or not the Vancouver Canucks should obtain an enforcer. The Marc Methot hit a few weeks ago prompted an outrage from fans the likes of which hasn't been seen since Alain Vigneault decided to start Roberto Luongo in a game.
Many folks were insisting that Mike Gillis immediately needed to address the lack of an enforcer, as Victor Oreskovich has, in the fan's eyes, been seen to be a bit lacking. And in true Kurtenblog fashion, what better way to prove myself than to be several weeks behind the news cycle? I kid, I kid, I'll probably be closer to a month or two behind the newscycle.
But do the Canucks really need to go out and trade for an enforcer? Nay, says I! There are plenty of options available within the Canucks organisation. You just have to be savvy enough to spot them.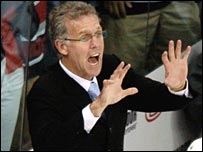 #1) Craig MacTavish – The former Edmonton Oilers coach is currently the head coach of the Canucks farm team affiliate in Chicago (have you wrapped your head around that one yet? Me neither…) and would be a perfect candidate for the enforcer role.
How tough is he? – MacT was the last NHL player to not wear a helmet. Pretty brave, considering he was active in an era that had Al MacInnis slapshots and Marty McSorley doing his impersonation of the Star Wars kid with his hockey stick.
Why he'd be a great Canucks enforcer – He'd be a great enforcer both on AND off the ice. He was a part of that 1994 Rangers squad, so Canucks fans know he can inflict great pain and suffering. He's also great at silencing  wagging tongues…perfect for dealing with the overzealous Vancouver hockey media.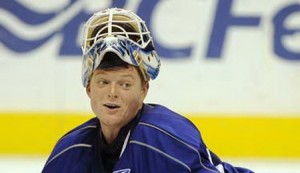 #2) Cory Schneider – The Canucks current backup and bromance target #1 for 98% of the Lower Mainland. If the fans had their way, Ginger Bricks would be starting goaltender, assistant coach and be the guy who got naked photographs taken of himself for Sports Illustrated. He needs no real introduction, but, there you go.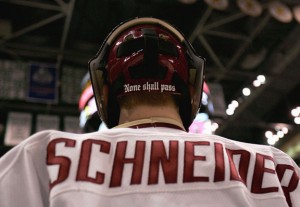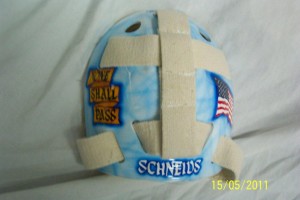 How tough is he? – Dude has a Monty Python quote on the back of his mask. Quoting the Holy Grail? That's like…one step away from Dungeons and Dragons, nerdboy! Can you imagine the reception in the locker room from Schneider's fellow jocks?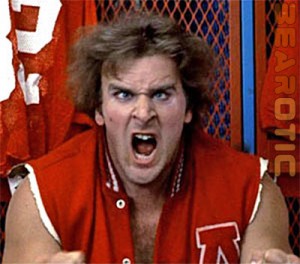 NEEEEEEEEEEEEEEEEEEEEEEEEEEEEEEEEEEEEEEEERDS!
Yeah.
Why he'd be a great Canucks enforcer – Well, first of all, NHL enforcers typically don't see a lot of ice time and are occasional healthy scratches. In other words, it's a part time gig and he'd be able to moonlight in between spending his time on the bench. Secondly, goalies are insane, especially those who love to scrap. Remember the last Canucks goalie who liked to fight? All this, plus Cory's had training in MMA: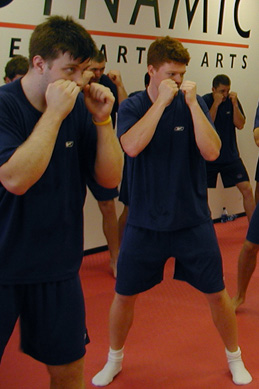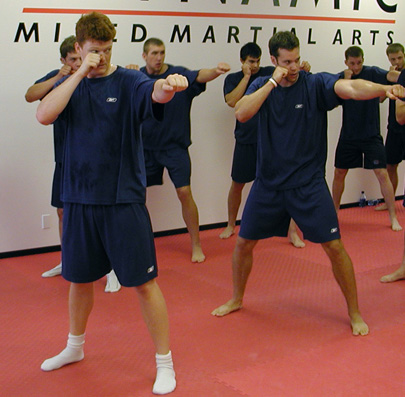 Seriously. Those are some 'educated fists' he has there.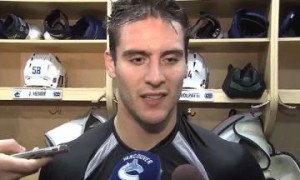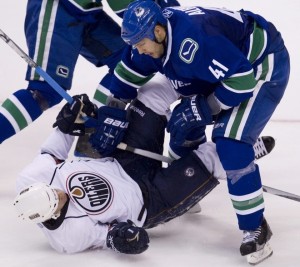 #3) Aaron Volpatti riding atop Andrew Alberts
– There's no questioning Volpatti's heart or the fact that he's capable of chucking them. But at 6′0″ and 215 pounds, he'd be a little outclassed with some of the league's heavyweights. Alberts isn't much of a fighter, but he's got size. Combine them together, Voltron or Captain Planet style and you'd have a decent NHL enforcer.
How tough are they? – Volpatti suffered burns over 35% of his body and was able to bounce back and resume his hockey career in the face of a horrific injury. You try burning 35% of your body and try doing anything, let alone pursue a career in professional sports. You can't. Do you know why? Because you aren't Aaron freakin' Volpatti.
Alberts, on the other hand, has had to endure the entire city of Vancouver wanting his head on a pike because he started his tenure as a Canuck on the wrong foot. Emerge from the rage from thousands of passionate Canucks fans unscathed? You've gotta have some pretty big cajones.
Why would they'd make a good Canucks enforcer – Anyone who has seen the Mad Max movie Beyond Thunderdome knows that there's few things less intimidating than Master Blaster.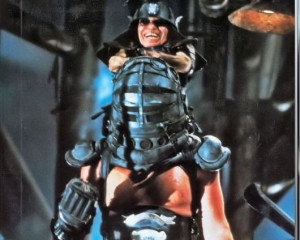 You take out the midget and throw in a tough as nails NHL player instead? You've got one wicked combination.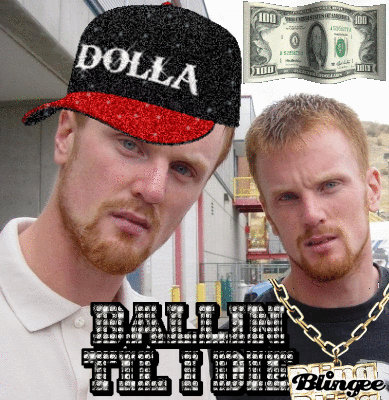 #4) The Sedins
– What? Yeah, the best players to protect the Sedins would be…the Sedins themselves! Crazy, I know, but
Henrik sort of, kind of backs up my logic
. But seriously, it's always better to fight your own battles and the Sedins are big boys and are certainly capable of handling themselves out there on the ice.
How tough are they? – If there's one thing television, particularly the 80s iteration of GI Joe, has taught me, it's that twins feel each other's pain.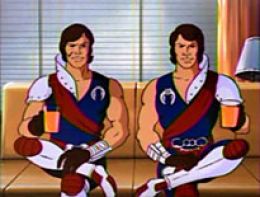 So for every body check Henrik receives Daniel gets to feel it to. For every high stick Daniel gets in the gums, Henrik's checking to make sure he doesn't need dentures. Pro hockey is a tough enough sport as it is handling one own's aches and pains. Imagine how it'd be if all the abuse you endured was doubled. And yet the Sedins do it effortlessly: Daniel's missed 20 games in the past 6 seasons and Henrik hasn't missed a game in the same time span (knock on wood, please, God, let this trend continue.)
Why they'd make good enforcers for the Canucks? If there's one thing professional wrestling has taught me, it's that John Cena is invincible.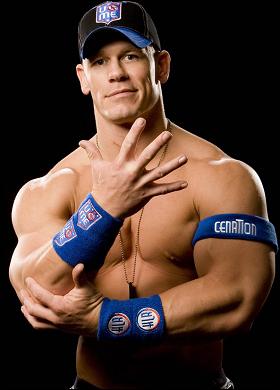 John Cena's catchphrase is 'THE CHAMP IS HERE.' Daniel Sedin is the current reigning Art Ross champion. John Cena is very good at beating people up. Therefore, Daniel Sedin would be very good at beating people up.
If there are TWO things that professional wrestling has taught me over the years, it's that wrestlers who look even remotely alike can be easily mistaken for each other by the referee. Take the Body Donnas, for example, a tag team from 90s WWF. They would regularly utilize 'twin magic' to gang up on a hapless foe, making it hard to for their opponent to get any sort of offense in.
The Sedins have twin magic.
There are referees in the NHL.
Do the math.
BONUS CURSE-YOU-GILLIS-FOR-MAKING-A-SENSIBLE-TRADE OPTION!
#5) Marco Sturm – Ummm, well, he's currently a healthy scratch, so he has that aspect of being an enforcer down pat. Mike Gillis signed him to a contract and it'd be a good idea to make use of that $2.25M contract, right?
How tough is he? – Uhhh.
Why would he make a good Canucks enforcer? – Beyond making lemons out of lemonade, Sturm does have one quality that could potentially make him an intimidating on-ice deterrent.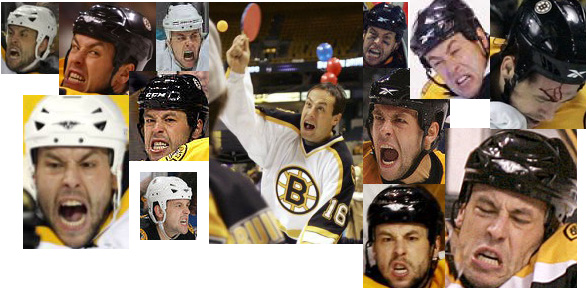 THE STURM FACE.
Imagine seeing that barrelling down at you. You'd be making brownies in your drawers. I mean, yes, it would take several minutes for Sturm to get to you before he actually did anything to you, but man, those 2 minutes of staring into the Sturm Face? Utterly terrifying.