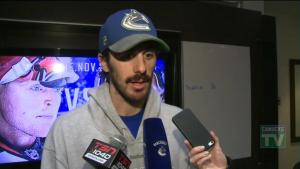 When talking about how I wasn't a Jim Benning guy, I made references to the Canucks goaltending situation and how I felt that Jim Benning mishandled things with the Canucks and how there's a potential storm brewing on the horizon. I didn't really explain what this encroaching storm could be.
I pointed out that Benning got less value than what he could have for Lack, because team management holds two paradoxical opinions: one, that Lack isn't worth much as a goaltender and two, Lack is good enough of a goaltender that he needs to be moved out of the Western Conference so as to minimize the damage he could do to the Canucks.
I also talked about how the Canucks goaltending is "unstable" and I'm going to try and address that, by looking at similar situations that have occurred in the past with the Canucks and how they have gone wrong, or right. This article is going to take a closer look at why Benning may have messed up.
The TL;DR of it is: Ryan Miller's use to the organization is going to wear out before the Canucks have a viable successor in place, the Canucks haven't had much luck with thrusting young goalies into prominent positions and expecting them to succeed whereas the Canucks have had better luck with slowly developing goalies and easing them into an NHL role.