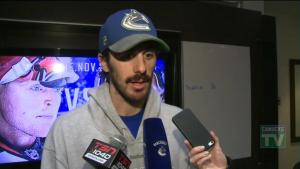 When talking about how I wasn't a Jim Benning guy, I made references to the Canucks goaltending situation and how I felt that Jim Benning mishandled things with the Canucks and how there's a potential storm brewing on the horizon. I didn't really explain what this encroaching storm could be.
I pointed out that Benning got less value than what he could have for Lack, because team management holds two paradoxical opinions: one, that Lack isn't worth much as a goaltender and two, Lack is good enough of a goaltender that he needs to be moved out of the Western Conference so as to minimize the damage he could do to the Canucks.
I also talked about how the Canucks goaltending is "unstable" and I'm going to try and address that, by looking at similar situations that have occurred in the past with the Canucks and how they have gone wrong, or right. This article is going to take a closer look at why Benning may have messed up.
The TL;DR of it is: Ryan Miller's use to the organization is going to wear out before the Canucks have a viable successor in place, the Canucks haven't had much luck with thrusting young goalies into prominent positions and expecting them to succeed whereas the Canucks have had better luck with slowly developing goalies and easing them into an NHL role.

BURKE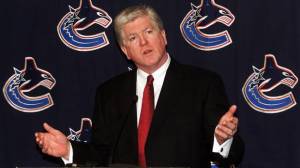 "We have a crisis with our goaltending that I have not successfully resolved." – Brian Burke
There's a misconception that the Canucks have a reputation for being a "goalie graveyard", a term which was coined by Brian Burke after he was unable to adequately address the Canucks goaltending issues over a three year span.
Burke made a mess of things almost immediately: he opted to pass on re-signing Arturs Irbe, who then went to, wait for it, Carolina. Irbe had the distinction of leading the Hurricanes to the Stanley Cup Final a few years later with the cutest homemade goalie pads ever.
From there, Burke led the Canucks on a spinning merry-go-round that resulted in goalies like Garth Snow, Kevin Weekes, Felix Potvin, Bob Essensa and Dan Cloutier.
Weekes is interesting, when compared to Markstrom. Both played in Florida prior to arriving in Vancouver, for roughly the same number of games. Both goalies posted similar statlines in junior/the minors, but also showed promise as goalies.
Unfortunately, Burke saw fit to proclaim Weekes his "goalie of the future", a moniker that would come to haunt him, particularly as Weekes was a part of the deal that sent Pavel Bure to Florida. Weekes was thrust into a prominent position on the team and seemed to struggle with the new attention — he no-showed a practice once with the excuse that he was carjacked. In suburban Vancouver. He was gone not long after.
Burke anointing Weekes as his goalie of the future should serve as a cautionary tale to other NHL general managers who like to make bold statements about players being foundational players before they've had a chance to play a single game with the team. In order to fix the mess Burke had put the Canucks in, he traded his Goalie of the Future, 2 draft picks and other assets for Potvin.
Potvin didn't provide much stability and his tenure in Vancouver is seen as weird — he was a solid goalie both before and after his time in Vancouver. Potvin's struggles led to fan favorite, Bob Essensa, to come in and perform.
Backup Bob eventually "saved" the Canucks season by standing on his head. Burke and head coach Marc Crawford stubbornly stuck with their #1 (a trend that would continue with Dan Cloutier), although it is unknown if Crawford would have started Potvin over Backup Bob if Potvin had a significant knee injury that was hampering his play.
Cloutier was another goalie who struggled prior to landing a primo position with the Canucks and then seemed to wilt under the pressure of being a starter in Vancouver.
Both Weekes and Cloutier were airdropped in to become "foundation pieces." They weren't ready, and failed, but the team stuck by them longer than they should have because they had to show faith in their investment, with both goalies becoming victims of the sunk-cost fallacy.
Burke repeated this approach in Toronto, most notably with Jonas "the Monster" Gustavsson, who was thrown into the Maple Leafs deep-end without so much as a life preserver. The Monster played 41 games in his rookie season in the NHL and spent no time in the minors, despite coming over directly from Sweden.
GILLIS
"Right now, we have two great goalies, we're perfectly happy if we continue this way." – Mike Gillis
Gillis came into a very different situation than Burke did with the Canucks: goaltending was very much a position of strength for him and it was an area of stability for his team. This was a distinct advantage and he made the most of it.
His approach to goaltending was very different than Burke's, and it began in his first season as Canucks GM. Roberto Luongo and Curtis Sanford headed up the Canucks goaltending, while they had Cory Schneider in the minors.
In the Canucks 08-09 season, Gillis saw both Luongo and Sanford go down with injuries. While Schneider was given an opportunity in a call-up role, Gillis saw fit to secure Jason Labarbera and sent Schneider back down, while fans gnashed their teeth at the perceived slight. Sanford was also put on waivers and sent to Manitoba.
The subsequent season saw Gillis obtain Andrew Raycroft, while Schneider continued to develop in Manitoba. By the time Schneider had finally secured a position on the Canucks, he had been a part of the Canucks organization for 6 years, and was made starter after 8 years in the organization. In that time span, the Canucks also signed Eddie Lack and began developing him.
It'd be a little remiss to ignore the Luongordeal that Gillis had caused while GM, and Gillis deserves to be criticized for the way he handled the goalie situation. I'd argue that unlike Burke, who didn't exhibit any patience, Gillis fell to the other extreme and exhibited too much, which ultimately cost him assets in the form of the Luongo trade and, ultimately, his job.
However, the decision to slowly develop both Schneider and Lack was one that paid off in spades for the Canucks.
It's also important to look at when both Lack and Schneider broke into the league: Schneider and Lack both "made" the NHL when they were 25, whereas Cloutier and Weekes were made the Canucks starter at age 23.  Schneider/Lack made the NHL by way of the NCAA/SEL whereas Cloutier and Weekes came from the CHL. For what it is worth, Markstrom is going to be with the Canucks at age 25, but with a statline that is similar to Weekes and Cloutier.
BENNING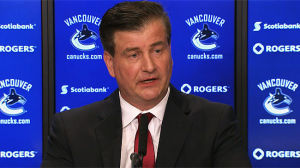 "And Markstrom looks to me like he is going to develop into a really good No. 1 goalie, and we wanted him to get up and going." – Jim Benning
First, let's talk about the "good" that Benning has done regarding the Canucks goaltending situation.
It would have been very risky to have gone into last season with just Eddie Lack as the starter. Although Lack did an admirable job down the stretch when John Tortorella death-marched him, there was concern whether his play was sustainable, so Benning made the right choice in picking up a veteran to ensure that the Canucks bases were covered. Again, given how Weekes and Cloutier both panned out when thrust into a similar position (and little support), Benning made the right move in getting a veteran goalie.
It's also good that the Canucks showed patience with Markstrom. Benning could have 'traded high' with Lack and thrust Markstrom into a backup position this season. After all, he was the 'prize' accquisition from the Luongo deal and has a higher ceiling than Lack. In theory, he's the "better" option.
Benning is also taking a longer view of things, with the decision to draft Thatcher Demko, although Demko won't be a viable option for the Canucks for another 4-5 years.
With that said, here's the "bad" that Benning might be doing with the Canucks goaltending situation.
Benning currently has Ryan Miller 1 year into a 3 year deal. He will be 37 by the time his contract expires, and it is unlikely he is going to be re-signed. Generally speaking, goalies tend to see a decline in skill as they get older and Miller is starting to show signs of it.
Using the PPP model, Miller's decline is about on par with the theoretical decline listed: Miller's average has gone from .916 to a .911 this season, which is about on part with a decline from .912 to .905. The Hockey Graphs breakdown is about the same, with a .005 decline year over year, with the expectation that this is going to continue.
Benning also has Jacob Markstrom signed to a 2 year deal that expires when Miller's does, which sort of puts Benning into an awkward situation and offers up a lot of things to think about. To wit:
– Does Desjardins split goaltending duties with Markstrom and Miller? That didn't seem to fly with Lack and Miller last season, with Desjardins preferring to lean on his veteran goalie more often than not. If the idea is to get a sense of how good Markstrom is, how often do you play Markstrom?
– If you play Markstrom a lot, are you running into the risk of him having to adapt to the pressure of being (most likely) a 1B to Miller's 1A? Based on this write-up of Markstrom, it seems that he doesn't adjust to pressure very well: he took a long time adjusting to the North American game and he has been rather bad in playoff situations. This is worrisome and is very evocative of the Cloutier years.
– If you don't play Markstrom, when do you get a read on him? When do you determine when the Canucks should shit or get off the pot regarding him? Do you do it when Markstrom is in the final year of his contract? Do you risk having to roll the dice on an unknown, overpaying for him because he goes on an Andy Hammond-esque run or do you go to a 37 year old Ryan Miller and retain him, if you're unsure of Markstrom? How good will Miller be at age 37?
– What if Markstrom flames out? What do the Canucks do if he ends up continuing to post a 3.00 GAA? Benning is going to have to give up more assets (a la Brian Burke and his goalie carousel) to fix a problem that he created in trading the younger and comparable Eddie Lack and signing/keeping Miller. Again, Thatcher Demko should not be ready for another 4-5 years, and Miller is not going to be of much use in 2 years time.
The Canucks are going to need a goalie and will either have to make a trade (which will cost assets), dip into free agency (which will cost more cap space for a UFA…a list that isn't overwhelmingly awesome (Ben Bishop, Ondrej Pavelec, Jonathan Bernier and Steve Mason highlight a list that includes Curtis McElhiney, Keith Kinkaid and Scott Darling) or promote Demko because, much like Burke, the Canucks don't have much in the way of other options. There seems to be no immediate plan for the future, but rather a stubborn hope that Markstrom is going to work out Just Fine and will be able to carry the load until Thatcher Demko is ready.
What is frustrating is that the Canucks could have avoided this situation entirely had they executed a little more foresight when signing Ryan Miller.
The only way that this resolves itself nicely is if Markstrom ends up being legit and is able do well at the NHL level, despite all signs pointing to the fact that it's going to be unlikely. Unfortunately, as Mike Gillis and Brian Burke will tell you, banking on the positive scenario happening will lead to you getting burned.