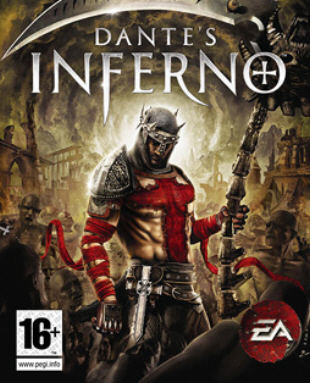 A demo for Dante's Inferno was released on the Playstation Network about two weeks ago, with XBox 360 fans seeing the release this Friday. Like other people out there, I was pretty curious as to how the hell the first portion of the Divine Comedy was going to be adapted into a straight up video game. I mean, it doesn't exactly lend itself for video game fodder. Then again, Electronic Arts isn't producing a faithful adaptation of the game: it's effectively a God of War ripoff: angry male faces off against a deity (Ares in God of War, Satan in Dante's Inferno) to win back his love. Generic character has ridiculous weapon and magical abilities. Yeah, I mean, I've only read the Penguin Classics translated version of The Divine Comedy so there may be something lost in the translation, but I am pretty sure that Dante never wielded a gigantic feck-off scythe. I'm also pretty sure that Beatrice, the woman whom the real Dante Alighieri pined over, didn't have the body of a stripper, complete with massive D cups.
That said, who cares if the video game companies take creative license with things? There's money to be made and boobs to animate. We can't let silly things like 'respect for the classics' get in the way of things! After all, Hollywood's been doing it for years so why not the gaming industry?
Exactly. So, here are some potential candidates for the next Classic that could be remade into video games! To any of my former professors who may have accidentally stumbled across this: I am so very sorry.
Click to continue reading "What Other Classics Can Be Turned Into Video Games?"