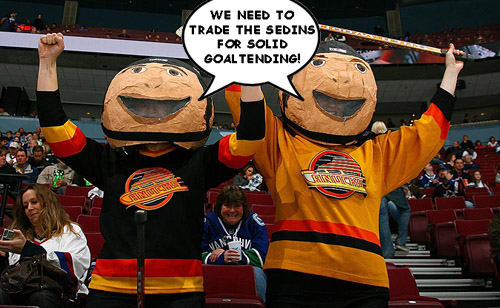 Earlier today, Chicago Blackhawks forward Dave Bolland talked some trash on Chicago radio, making fun of the Sedins by calling them sisters. Vancouver Canucks fans were, predictably, outraged at yet another public figure making fun of the Sedins. Honestly, it's nothing particularly new.
Hilariously enough, the 'Sedin Sisters' name has a long history. One that originated in Vancouver. By both the media and the fans. See, these days, it's very much the vogue thing to adore the Sedins and view them as being pretty freaking awesome. Unfortunately, there was a rather loud vocal contingent of Canucks fans who were very keen on jettisoning the 'soft' and 'weak' 'Sisters.'Heck, even Mike Gillis wasn't a fan when he first became GM of the Canucks.
Even as recently as 2009, there were serious thoughts being bandied around about not re-signing Henrik and Daniel. Insane thoughts, like signing Marion Gaborik and Marion Hossa, both players well known for their tenacity, were being seriously proposed by some…enthusiastic fans.
So if Canucks fans want to get enraged about other folks calling the Sedins 'Sisters', they really have no one to blame but themselves. It was a nickname foisted upon them by both the fans and the media and it's stuck ever since.